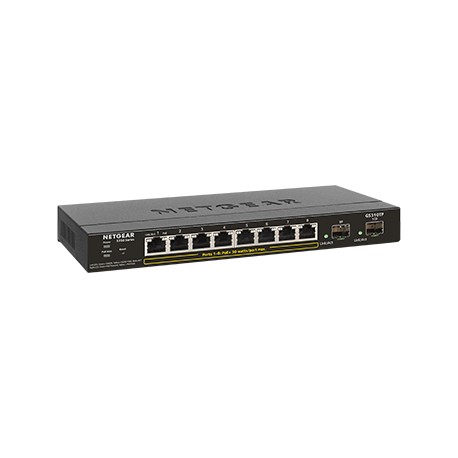 Images are for illustrative purposes only.
Netgear GS310TP
8-Port Gigabit PoE+ Ethernet Smart Managed Pro Switch with 2 SFP Ports, PoE+, VLAN, 0.61kg
gs310tp-100eus
Availability: Out of Stock
Connectivity, Security and Affordability for Your Smart Business As a leading provider of network equipment for SMBs, ... Read More
New product
This product is no longer in stock
Connectivity, Security and Affordability for Your Smart Business

As a leading provider of network equipment for SMBs, NETGEAR® understands the importance of reliable and high performance networks that are SMB budget aware. With the growth of virtualization, cloud-based services and applications like VoIP, video streaming and IP surveillance, SMB networks need to extend beyond simple reliability to performance and security. The NETGEAR S350 Gigabit Smart Managed Pro Switch series is tailored to these essential network needs of your business; delivering unprecedented non-blocking Gigabit bandwidth and solid network security at an affordable cost.



Designed for Converged Networks

NETGEAR Smart Managed Pro S350 series consists of five switch models, including 8-, 24- and 48-port Gigabit Ethernet switches and 8-, and 24-port Gigabit Ethernet PoE+ switches with 2 or 4 SFP ports for fiber uplinks, offering powerful Layer 2 features, enhanced performance and ease of use. They are purposely designed for converged networks where voice, video, data are all carried on a single network platform. Advanced features such as L2/L3/L4 Access Control Lists (ACLs), Quality of Service (QoS), Link Aggregation Control Protocol (LACP) and Spanning Tree Protocol (STP) will ensure a high-speed and highly secured network environment for your business.



Dynamic VLAN Assignment

IP phones and PCs can authenticate on the same port but under different VLAN assignment policies. Users are free to move around and enjoy the same level of network access regardless of their physical location in the network.



Robust Security Features

Build a secured, converged network with all types of traffic by preventing external attacks and blocking malware while allowing secure access for authorized users. Features include: 802.1x authentication, DHCP filtering, ACL filtering.



Comprehensive QoS Features

Advanced controls for optimized network performance and better delivery of mission-critical traffics such as voice and video. Features include: Port-based or 802.1p-based prioritization, Port-based ingress and egress rate limiting.



Auto-VoIP, Auto-Voice and Auto-Video

Automatic Voice over IP prioritization (Auto-VoIP) simplifies most complex multi-vendor IP telephone deployments, providing the best class of service to VoIP streams (both data and signaling) over other ordinary traffic by classifying traffic, and enabling correct egress queue configuration. Similarly, Auto-Video VLAN enables IGMP snooping to minimize broadcast streams



Protected Ports

Ensure no exchange of unicast, broadcast, or multicast traffic between the protected ports on the switch, thereby improving the security of your converged network. This allows your sensitive phone conversations to stay private and your surveillance video clips can be forwarded to their designated storage device without leakage or alteration.



Advanced per port PoE controls

Remote power management of PoE connected devices including operation scheduling (e.g. Wireless APs, IP security cameras, secure access door locks, IoT devices…)



DHCP Snooping

Ensure IP address allocation integrity by allowing only clients with specific IP/MAC addresses to have access to the network.



Dual Firmware Images

Dual firmware image for transparent firmware updates / configuration changes with minimum service interruption.