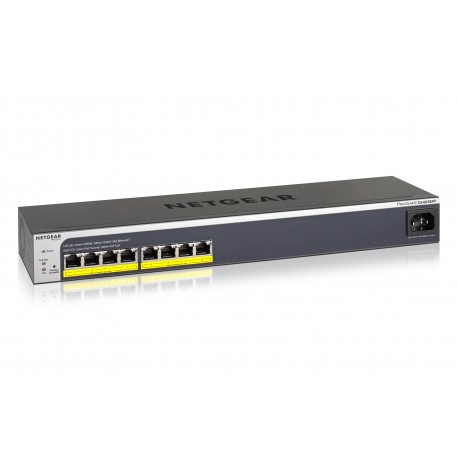 Images are for illustrative purposes only.
Netgear GS408EPP
GS408EPP, 8x RJ-45, PoE/PoE+, 16 Gbps, L2, 26.9 dB, 380x100x43.2 mm
gs408epp-100eus
Availability: Out of Stock
The NETGEAR Easy-Mount Switch Family Overview The NETGEAR Easy-Mount Switch allows you to put more PoE/PoE+ ports Virtually ... Read More
New product
This product is no longer in stock
The NETGEAR Easy-Mount Switch Family Overview

The NETGEAR Easy-Mount Switch allows you to put more PoE/PoE+ ports Virtually Anywhere™ with its unique mounting system.



The Easy-Mount Switch family comes with a full set of software features such as traffic prioritization, VLANs, QoS and PoE power allocation.



Moreover the Easy-Mount switches comes with Energy Efficient Ethernet for maximum power savings.



Easy-Mount and Low Noise Operation

Deploy your PoE/PoE+ switch closest to your PoE/PoE+ devices and put your PoE/PoE+ ports exactly where you need them.



Install your ports up in the ceiling, strapped to a pole, mounted under a desk or tabletop. If you wish you also can rack mount the GS408EPP switch on a 19-inch standard rack. You can even rack mount 2 GS408EPP switches back to back in a single 1U.



Thanks to the active fans the GS408EPP is a silent switch, well below offices ambient background noise.



PoE/PoE+ Support

Power-Over-Ethernet (PoE) option available for powering IP Security Cameras, VOIP phones, wireless access points, and other PD-powered devices.



With eight (8) PoE/PoE+ Gigabit Ethernet ports (802.3af, 802.3at) providing up to 30W per port, and a power budget of 124W, provide power and connectivity across one wire to power-hungry PoE devices like 802.11ac Wave 2 Access Points, Pan/Tilt/Zoom/HD Security Cameras, security door locks, and other IoT devices.



Easy-Mount "Virtually Anywhere" Mounting System

The innovative mounting system gives you the flexibility to place the Easy-Mount Switch in locations where other switches will not go. Whether it's directly on a wall, strapped to a pole, under the meeting table in a conference room or in a server closet, vertical or horizontal, flat or perpendicular, the unique mounting system allow you to control exactly how and where your ports and cables are deployed.



Networking Management Features

The Easy-Mount Switches can go beyond plug-and-play connectivity with additional Switch networking features, allowing businesses to segment the network with VLANs or prioritize voice and video traffic with QoS. IGMP Snooping allows for optimized multimedia delivery and port trunking adds redundancy to uplinks and servers. Setup and configuration is simple using the web browser-based configuration GUI.



NETGEAR Warranty

Easy-Mount switches are backed by a NETGEAR ProSAFE® Limited Lifetime Hardware Warranty.



Lifetime Next Business Day Hardware Replacement.

ProSUPPORT 24x7 Advanced Technical Support via phone for 90 days.

ProSUPPORT Lifetime 24x7 Advanced Technical Support via chat.