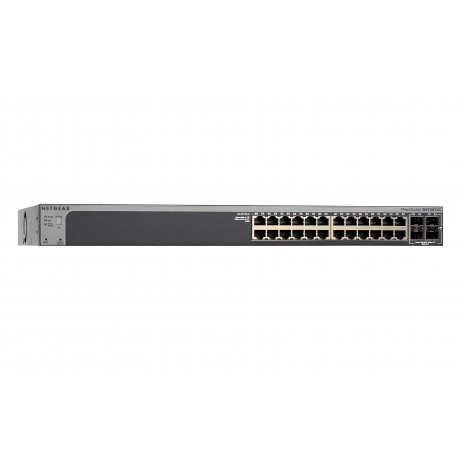 Images are for illustrative purposes only.
Netgear GS728TXS
GS728TXS - 24-port 10/100/1000 Mbps, 4-10GEbps SFP+ slots, 31.4w
gs728txs-100nes
Availability: Out of Stock
- Industry's First Smart Switch with 10G uplinks and stacking - Designed to provide 10 Gigabit connectivity to servers with ... Read More
New product
This product is no longer in stock
- Industry's First Smart Switch with 10G uplinks and stacking

- Designed to provide 10 Gigabit connectivity to servers with superior performance, expandability and resiliency

- Cost-effective solution for SMBs deploying Server and storage Virtualization



An ideal companion to the rapidly emerging class of 10-gigabit servers, the NETGEAR® ProSAFE® 28-port Gigabit Stackable Smart Switch is the industry's first smart switch with 10-gigabit connectivity – delivering maximum throughput in SMB networks for demanding tasks such as data replication and backup, virtualization, video on demand and high-volume transaction processing. At less than half the cost of a managed switch, the ProSAFE 28-Port Gigabit Smart Switch provides 24 gigabit ports for connecting devices to the network, along with four 10GE SFP+ ports for stacking or uplink to servers. GS728TXS is able to be mixed and matched with GS752TXS in the same stack. As many as six switches can be stacked for a total of 300 network ports, with full redundancy for unsurpassed reliability. The GS728TXS offers a rich enterprise-class feature set, including advanced traffic management and security, yet can be easily configured and monitored through a web-based graphical user interface.



Enterprise-Class Features

With a rich set of Layer 2 management features, the GS728TXS is efficient, secure and ready for the future. Static routing allows for segmentation of the network, with internal routing through the switch – reserving the router for external traffic routing only, making the entire network more efficient. Dynamic VLAN assignment increases security by imposing consistent policy and user credentials across the network, regardless of where users connect. Support for MLD Snooping greatly increase network efficiency by forwarding multicast traffic to designated hosts only, rather than flooding multicast packets across all ports. The GS728TXS also comes with full IPv6 support, comprehensive security and advanced multicast management.



Scalability and Reliability

The GS728TXS is a scalable solution that grows with a business. Starting with a single switch, the stack can grow to six switches with a mixed of GS728TXS and GS752TXS and a total of 300 network ports. Two out of the four 10-gigabit SFP+ ports on each switch can be used to create the stack, a single logical unit with up to 40 Gbps of stacking backplane that can be configured and managed as one switch – speeding up deployment while simplifying administration and maintenance. The stacked switches can be spread across multiple physical locations, by taking advantage of SFP+ fiber-optic connectivity, making the GS728TXS an ideal solution for remote and branch offices. All four 10GE ports can be used for network uplinks to servers and storage devices, or split with two ports for local or distant stacking and two ports for uplinks and link aggregation. Auto failover creates a safety net so that if one switch in the stack fails, all the other switches will be intact.



Flexible Management Options

As a "smart" switch, IT administrators can decide how to manage the GS728TXS. Individual switches can be managed through a simple browser-based graphical user interface. The GS728TXS can also be managed through SNMP software for compatibility with existing SNMP-based consoles. For larger networks, NETGEAR's Smart Control Center, is a free Windows-based application for discovering, configuring and upgrading multiple smart switches across the network.