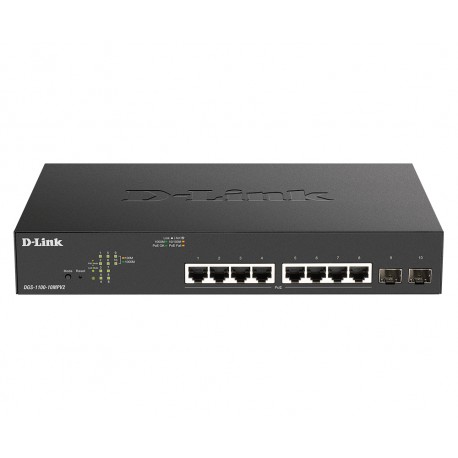 Images are for illustrative purposes only.
D-Link DGS-1100-10MPV2
8x 1G RJ-45, 2x SFP, 20 Gbps, 14.88 Mpps, PoE, 280x180x44 mm
dgs-1100-10mpv2
Availability: Out of Stock
The DGS-1100 Series is built for the needs of a diverse range of businesses. Support for PoE, advanced management & ... Read More
New product
This product is no longer in stock
The DGS-1100 Series is built for the needs of a diverse range of businesses. Support for PoE, advanced management & troubleshooting tools, and energy efficient technology offer a highly flexible solution.



Smart Switching for your Business

The DGS-1100 Series is a range of smart managed switches that offer a lot of bang for your buck. They are great for busy SMBs who expect a lot of their network, including support for surveillance and VoIP. They are packed with traffic management & optimization features that keep your network congestion free. Meanwhile, management tools are flexible and intuitive, making your life easier.



Expedited Deployment and Effortless Ongoing Management

The D-Link Network Assistant (DNA) can quickly discover and execute initial setup for D-Link Networking devices such as the DGS-1100 Series, which greatly improves efficiency for solution deployment.



VLANs: Stronger Security & Better Traffic Management

Relatively easy to set up, VLANs can be a big boon for your network. They can isolate sensitive areas of your network, keeping them safe from those with malicious intent, or keeping bandwidth open for latency-sensitive traffic such as VoIP.



For Voice

If VoIP calls make up a large slice of your network usage, separating them onto their own VLAN can ensure they get the bandwidth they need for smooth conversations without lag or jitters.



For Surveillance

If you have surveillance cameras and devices attached to your network, putting them onto their own VLAN keeps surveillance footage running seamlessly. At the same time, it can help prevent a variety of malicious attacks by restricting access to different network areas.



Green Features That Help the Environment and Your Budget

D-Link Green technology enables the DGS-1100 Smart Managed Switches to save power without sacrificing performance. Most of the models in the series utilize a fanless design, ensuring a longer product life, as well offering silent and energy-efficient operation. All are IEEE 802.3az-compliant and feature Link Status detection and Time-Based PoE.



PD Alive Actively Mitigates Downtime

Round-the-clock surveillance footage is vital. If you have cameras attached to your network, you may have thought technical difficulties were a given. However, the PD-Alive feature actively mitigates device downtime. If a device is not working as expected, the switch can automatically reset them and get them back online. No need to turn them on and off again in the middle of the night.