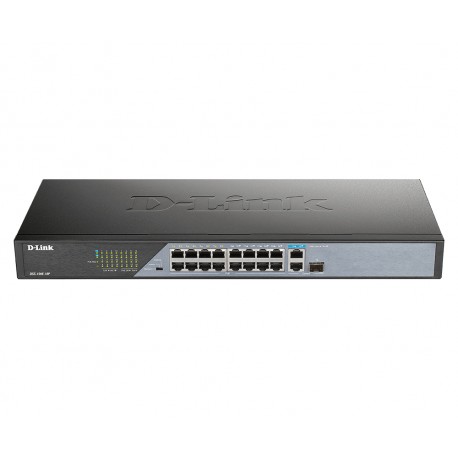 Images are for illustrative purposes only.
D-Link DSS-100E-18P
16x 10/100 Mbps, PoE, 7.2 Gbps, 5.36 Mpps, 440x178x44 mm
dss-100e-18p
Availability: Out of Stock
The DSS-100E-18P is part of D-Link's premier Power over Ethernet (PoE) Surveillance Switch series. They are the safest, most ... Read More
New product
This product is no longer in stock
The DSS-100E-18P is part of D-Link's premier Power over Ethernet (PoE) Surveillance Switch series. They are the safest, most reliable and all-round best solutions for surveillance deployments.



Designed for Surveillance

The DSS-100E-18P has a total PoE power budget of 230W, with up to 30W on each port meaning it's ready to power your PoE-ready cameras and other devices. Simply connect your PoE supported devices and you've got a capable surveillance network with minimal wiring required. Meanwhile, it has an extended PoE range of 250m, reaching devices further than before. Finally, its Gigabit uplink provides ample bandwidth. This ensures smooth transmission of footage when connecting to Network Video Recorder (NVR) or core switch.



Reach Further

The DSS-100E-18P surveillance switch can be further combined with the DPE-302GE PoE Extender to maximize your PoE camera deployment distance to virtually anywhere, drastically lowering the cost for installing any PoE Ethernet devices. It provides you huge time and cost savings and greater flexibility of endpoint device positioning.



- Power your device up to a distance of 650 meters at 10 Mbps

- Innovative design reduces long distance power transmission loss

- Leverages existing copper twisted-pair cabling to deliver electrical power over the same network connection



Versatility for a Range of Scenarios

The DSS-100E-18P is not just for cameras, it's ready to support other surveillance-related devices as well. Simply plug in the devices you need to complete your setup; the switch can then automatically detect what has been connected. It then adjusts accordingly to provide optimal performance. Ideal for a power surveillance with minimal management fuss.



Weather the Storm

The DSS-100E-18P is equipped with 6kV surge protection. This keeps the switch safe against lightning strikes or other power related incidents. This shield will prevent PoE devices from damage, ensuring your vital surveillance systems continue to function without interruption.



Plug & Play

The DSS-100E-18P is developed with simple setup in mind. No configuration is required, simply connect the switch to your network and you are ready to go. You can start adding IP cameras, IP phones and other PoE and non-PoE capable devices to your network. Meanwhile, the switch will automatically detect what has been connected and intelligently adjust to offer optimal performance. It is ideal for those who want a powerful network, without the fuss of managing it.



Compatible with a Wide Range of D-Link PoE-Enabled Cameras

Our switches are highly compatible with a variety of cameras. You can be safe in the knowledge that the cameras and devices you choose will easily integrate into your surveillance network.



Better for Your Budget, Better for the Planet

To further cut OPEX, the DSS-100E-18P supports IEEE 802.3az Energy Efficient Ethernet. The switch can automatically detect when network traffic is being passed through ports. Those that are not in use are powered down. Not just good for cutting operating costs, but better for the environment too.



Standard mode

All ports can communicate with each other, working as a common unmanaged switch. Ports 1 to 16 support PoE to devices up to 100m away and transmit data at 10/100 Mbps.

Meanwhile ports 1 to 8 support port priority to optimize port cache.



Isolation mode

To enhance security, ports 1-16 are separated, allowing each to only communicate with ports 17 and 18. This protects the network from tampering.



Extend mode

Have a device more than 100m away? Use this mode to keep supplying PoE over distances of 100m, doing away with the need for more equipment such as PoE extenders.